Mrs Dash Cauliflower Popcorn
Kathy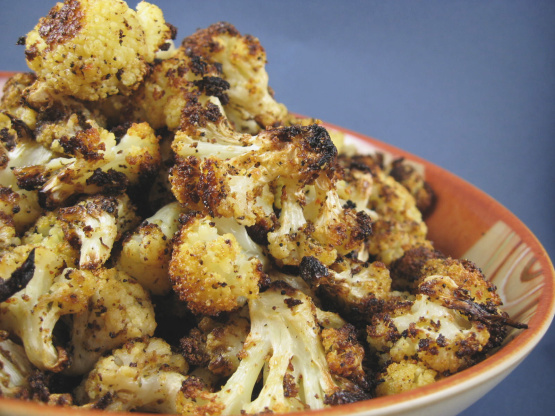 I just got this recipe from the Mrs Dash site - I have not made them but I love the sound of them Imagine eating a snack that is good for you.

Top Review by Kathy
The word "popcorn" in the recipe title was a little confusing. That makes it sound like the end result is dry. That's definitely not the case. This recipe for roasted cauliflower yields a sweet, crunchy on the outside, yet tender on the inside veggie side dish that I really enjoyed. The Mrs. Dash seasoning has a nice kick to it. I had a large head of cauliflower, and it served 4 people. A very good recipe, thanks!
1

head cauliflower, broken into small florets about the size of popcorn

3

tablespoons olive oil

2

tablespoons Mrs. Dash table blend seasoning
Pre heat oven to 450F Toss the florets in a plastic bag or bowl with the olive oil& Mrs Dash Table Blend.
Spread florets on a cookie sheet and roast for apprx 45 to 60 minutes or until nicely browned.
Flip them 3 or 4 times while roasting- the longer they are in the oven the sweeter they get!