Mrs. Burchell's Chicken Chutney Salad
Bayhill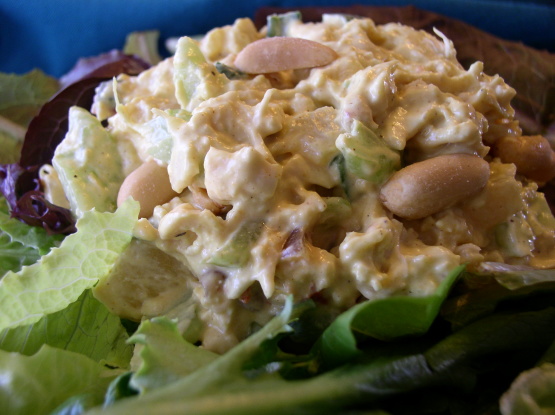 MDM's favorite for ladies' luncheons, judging from the chutney stains. From the Alexandria VA TWIG cookbook, "A Heritage of Good Tastes", submitted by Mrs. Donald Burchell.

I love chutney in chicken and turkey salad that has been smoked, so I grilled my chicken and also my pineapple before adding to the salad. This salad has lots of nice texture and a delicious flavor. I enjoyed mine inside some pita bread. Thanks for sharing. Made for PRMR tag game.
Combine mayonnaise, grated lime rind, juice, chutney, curry powder and salt.
Toss chicken, pineapple and green onion together.
Combine chicken mixture with mayonnaise mixture.
Chill.
Add peanuts and celery just before serving and toss again.