Mr. Mudd's Cranberry Apple Bake
Joyd9060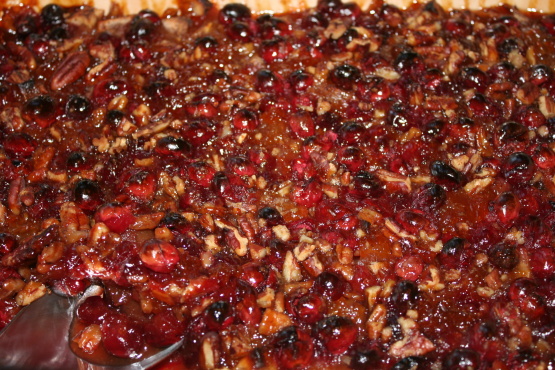 Another great recipe from the great Mr. Mudd, a well-known Atlanta hairdresser, whom we all love and appreciate for his humor, kindness and RECIPES!! This is so yummy! It's a perfect balance of tart and sweet. I love it & hope you do too. It's a must have on our Thanksgiving table.

This is really good! I had an extra bag of cranberries left over from Thanksgiving and found this recipe to make. DH thought it was a bit too sweet. Next time I will cut back on the brown sugar. Overall a keeper. Made in honor of CoolMonday. Thanks Joyd for posting.
Spray or butter a 9x12 pyrex dish.
Peel, halve, core and slice or chop apples. (I prefer them chopped). Place in dish.
Wash, pick over and drain cranberries. Pour over top of apples.
Mix sugar and cornstarch together in small bowl. Add vanilla, butter and preserves. Pour over top of apple/cranberry mix.
Sprinkle with nuts.
Bake uncovered in preheated 375 oven about 50-60 minutes.