Mr. Howell's Left Bank French Toast
loof751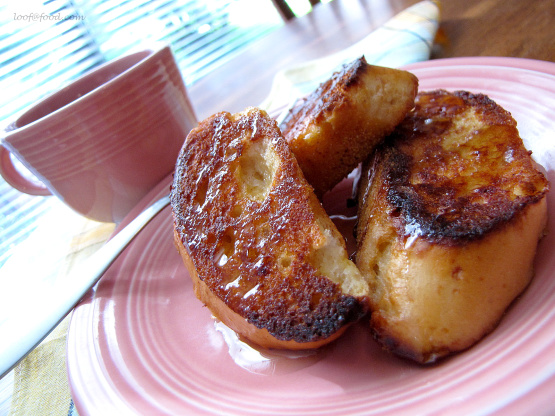 From "Mary Ann's Gilligan's Island Cookbook" by Dawn Wells (Mary Ann herself), Ken Beck and Jim Clark. I got this cookbook in a swap and it's got some very humorous quotes and recipe titles. This recipe for French toast is posted for ZWT8 - France. Did you know Mr. Howell once said, "If it weren't for the money, I'd rather be poor."
While this was a delicious recipe, with a wonderful texture and easy cleanup, the directions and amounts were way off. The egg/oj mixture was only enough to dip 4 slices of bread in. The baking time was also way off, I peeked at it after 10 minutes and it was already done, possibly a bit overdone. The flavor was amazing - it reminded me of orange danish rolls. I will definitely be making french toast like this again, adjusting the ingredients and cooking time. I lined my pan with foil, which made clean up so much easier than frying the toast in a skillet. It would be great for a holiday breakfast where you need to feed several people all at once.
In a 15 x 10-inch jelly-role pan melt the butter in a 425 deg F oven.
Sprinkle the pan with mixture of sugar and cinnamon,.
In a shallow bowl mix the eggs and orange juice, and dip the bread slices in the mixture until well soaked but not falling apart.
Arrange close together in the prepared pan.
Bake at 425 deg F for 20 minutes, or until set.
With a pancake turner, invert the toast onto serving plates.
Serve with maple syrup.
Variations: For Sesame toast, sprinkle melted butter with 2 tablespoons sesame seeds.