SaraFish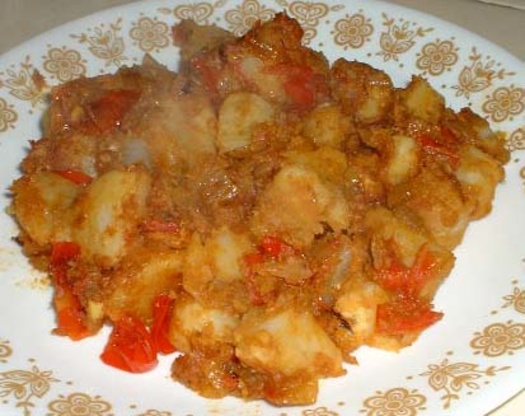 Tasty, savory, filling potato dish that's easy to make on your stovetop in a skillet.

YUMMM! I made this with the curry powder some very nice person sent me and it was fabulous. I am new to curry but this really had a taste that we liked. I added some chopped hot pepper out of the garden to kick it up and I will make it many more times. Thanks for the recipe and the curry powder.
2

medium potatoes, peeled and cut in small chunks and boiled for 20 minutes

2

medium tomatoes, diced

1

large onion, chopped

1

piece ginger, crushed and minced

5

cloves garlic, minced

1 -4

teaspoon mrcurrys.com instant curry, seasoning powder

3

tablespoons oil
Heat oil and cook onions, stirring, for about 4 minutes.
Add 1-4 teaspoons MrCurrys.
com Instant Curry Seasoning Powder (depending on how spicy you want it. I used 3 and it was tasty and pleasantly spicy but not at all uncomfortable).
Also add garlic& ginger and stir mixture for about 30 seconds.
Add tomato, salt as needed (I added 1/2 teaspoon) and cook& stir for 5 minutes.
Add cooked, drained potato pieces and gently stir for another 4 minutes.
Serve.