Mozzarella Stuffed Italian Meatloaves
jgaffey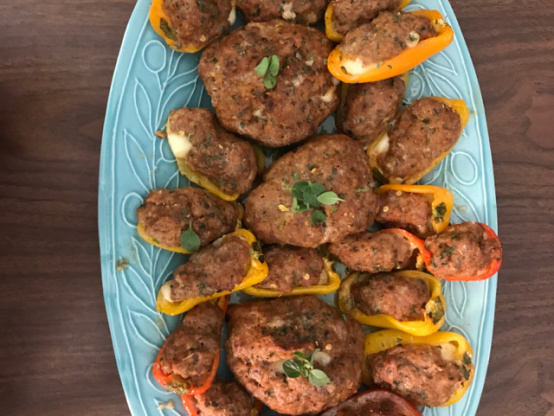 I got this recipe from a LandOLakes cookbook. It has become a family favorite. It doesn't have a lot of spicies or seasonings but you could customize it to fit your tastes. It is a simple tasty dish.

This was very good. I added some finely chopped onion and 2 cloves of minced garlic, and I baked them up in a muffin tin, then served them over top spaghetti, with more spaghetti sauce drizzled over top. I was kind of sad that the mozarella didn't stay inside the meatloaves, but it didn't affect the taste at all- they were wonderful. Hubby inhaled his, and went back for 2nds, and without me asking him what he thought, told me this was definately a "make again" recipe. Thanks so much for posting.
Heat oven to 350.
Combine beef, sausage, bread crumbs, sauce, pepper, and egg in medium bowl.
Cut cheese into either 6 large cubes or 18 small cubes.
Form meat mixture into 6 seperate loaves.
Insert either 1 large cube or 3 small cubes into each loaf.
You may have to reshape loaf around cheese.
Put loaves onto ungreased baking sheet.
Bake at 350 for 30-45 minutes (depending on thickness) or until loaves are no longer pink in the middle.
Don't worry if some of the cheese comes out during the baking-it happens.
Serve with extra suace if you want.