PanNan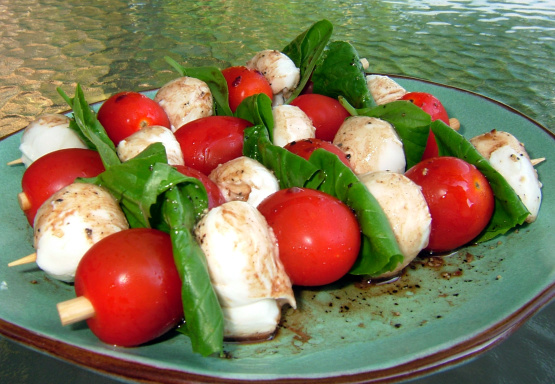 Cherry and grape tomatoes are the most flavourful winter choices. If you can't find a round of rich, creamy buffalo mozzarella, substitute bocconcini balls cut in quarters. From Food and Drink.

Top Review by PanNan
I found these little fresh mozzarella balls, and they worked perfectly for this recipe. The balsamic vinaigrette was real tasty, and this is a beautiful and colorful appetizer. Mozzarella has little flavor on it's own, and the vinaigrette and basil add needed flavor. Next time, I'll let it rest longer than 2 hours and turn the skewers regularly in order to absorb even more of the vinaigrette flavor. Thanks for posting this great idea.
Whisk vinegar in a small bowl with oil, pepper and salt.
Cut cheese in twenty-four 1/2 inch cubes. To assemble, slide a tomato onto a skewer, followed by a basil leaf, folded in half, and a cheese cube.
Repeat with remaining skewers.
Arrange on a serving platter and brush or sprinkle with vinaigrette.
Cover and let sit at room temperature up to 2 hours before serving.