Mozzarella, Basil and Garlic Bruschetta
Bergy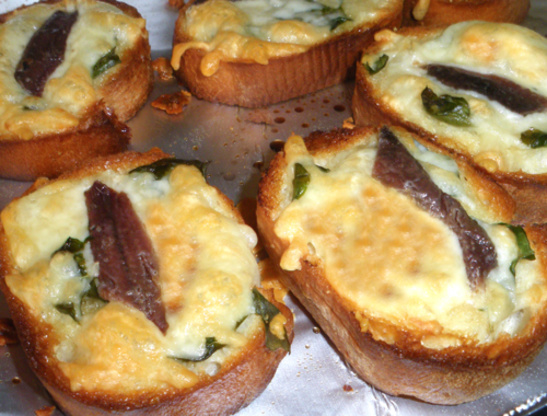 This quick and easy snack is also wonderful as a warm, light starter to a Mediterranean dinner. If you like anchovies, you can add a half a fillet to each bruschetta too.
Preheat the oven to 180 degrees Celsius.
Slice the baguette into 10 slices.
Spread garlic butter on each slice.
Tear basil leaves (tearing releases the flavour, whereas cutting it does not produce the same effect) and place one on each slice.
Cut the anchovies to size, and place on top of basil.
Slice the mozzarella into ten slices and place one on top of each bruschetta.
Sprinkle salt & pepper (if using anchovy use less salt).
Place under the grill for five minutes or until the cheese bubbles and begins to brown.
Serve warm as a starter or snack.
Enjoy!