Moxie's Walking on Sunshine Salad
Bergy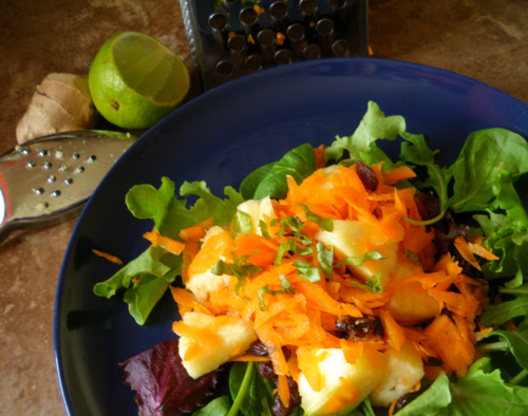 This salad was posted by my dear friend, Moxie. I'm not changing a word here. "My mom used to make carrot, apple & raisin salad like this when I was growing up. I came up with this fresh-tasting version one summer afternoon when I had fresh carrots & basil from the garden and was looking for an easy side dish for lunch. My daughter loved it -- but don't give it to kids under 1 because of the honey."

I made this dish this afternoon for dinner this evening, allowing it to chill for a couple hours before serving. I used Sweet Basil, fresh from my herb garden. I was a little nervous that DH wouldn't like it, but was pleasantly surprised when he cleaned his plate! I really enjoyed it myself, which I had expected. The colors contrasted so nicely; it was very eye appealing and had lots of flavor that blended extremely well. Best of all, it was quick and easy too! DH even commented on all of these features too. Thank you for sharing this moxie. It was great!!!
Grate carrots, and combine in a bowl with raisins, pineapple chunks and basil.
Whisk honey, lime juice and ginger together and mix with other ingredients.