JustJanS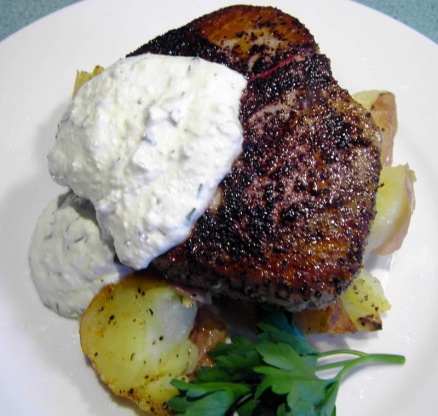 This was originally posted by my cyber-friend Moxie; I was lucky enough to rescue it during a recent recipe 'adoption' drive. Her original intro read: "Sumac has a tangy, citrusy flavor and is very nice with the salmon & balsamic vinegar in this recipe. A little bird told me about the virtues of sumac (ok, it was Chef Canary Girl!), and now I'm a big fan. This recipe came from a website called Global Gourmet. Prep time includes marinating time, and cooking time will depend on the thickness of your salmon, heat of your grill, etc."

I love simple fish recipes and this certainly fits the bill! You can't get much easier than this with such excelllent results. The only change we made was to use super fresh tuna steaks we bought just about off the boat. I think fresh tuna and salmon sub very successfully though, so I don't feel too bad about doing it;-) *editing to say we make this still, and still with tuna as the photo will show!
3⁄4 lb salmon (steaks or salmon fillets)

1

teaspoon ground sumac

1

tablespoon balsamic vinegar
Sprinkle sumac over the fleshy sides of the salmon (not the skin part).
Pour balsamic vinegar on top.
Marinate refrigerated 30 minutes to 2 hours.
Just before cooking, drizzle or spray a light coating of olive oil on the fish, to keep it from sticking.
Pan fry, broil, or grill until done.
Serve with lemon wedges.