Redsie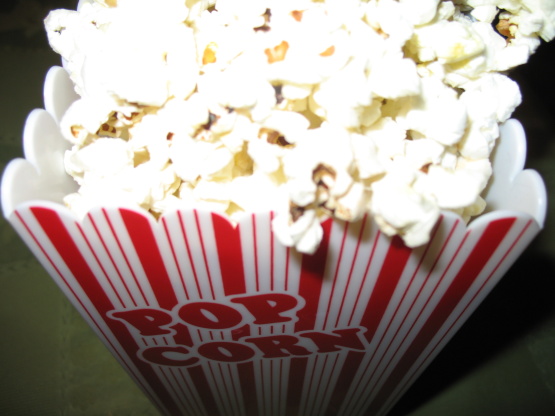 This method of making crispy popcorn is a family "secret" passed down from my grandmother. Try it for yourself and taste the difference.

Top Review by Roosie
This was really very good. I have to admit, though, I used it a bit more as a technique for re-heating leftover popcorn rather than just crisping fresh. I had leftovers from popping corn in my Whirley-Pop (love the thing) and I'm not a tremendous fan of cold popcorn. So, we stuck it in the oven at 200* for about 2 hours (BH got really impatient and kept asking me "What in the world are you doing to that popcorn!?!" so I couldn't do it longer.) Crispity, crunchity- delightful. I really like this technique as well, because making popcorn with my Whirley-Pop is an active activity (redundant, I know). I have to stand there and turn the crank and be there. However, if I pop it earlier and then pop it in the oven, I can do whatever else I need to do and rely on the fact that I will have lovely hot, crunchy popcorn when I want it. Popcorn is also very high in fiber, making it a great snack for kids. I imagine that this would be a good technique to use to make popcorn earlier in the day, stick it in the oven and have a great hot snack all ready for your kids when they get home from school. Thanks for posting, Geema!
Pop the corn using your favorite method-- I use hot air-- and place it in a roasting pan or on a cookie sheet.
Bake the popcorn in a 200-210 degree oven for a minimum of 1 hour.
I've let it bake for more than 4 hours and it just keeps getting better.
Remove popcorn from oven and season with your favorite toppings-- I use olive oil and salt and sometimes a sprinkling of nutritional yeast.
But, melted butter and salt is also delicious.