Movie Night Meatball Subs
alligirl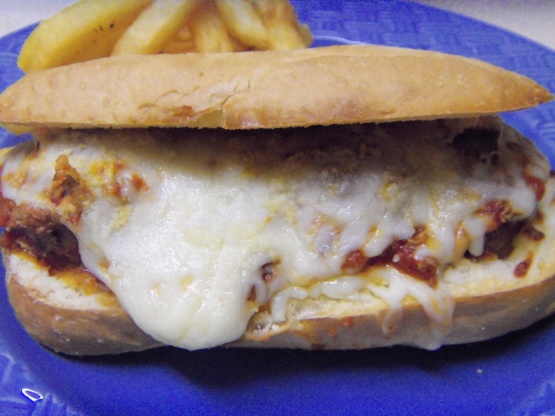 I use my Family Favorite Basic Meatballs and Fresh Tomato Sauce (recipes posted separately) to make these for family movie nights (hence the name). They are a little less messy to eat than most meatball subs due to the hollowed-out rolls, and the unused bread chunks can be used for other purposes.

I cheated a little and used frozen meatballs, and cooked them, other than that made these as a little appetizer tonight for the football game.. I added a little extra mozzerella and enjoyed this tonight. Cut each sub in half for smaller portions, using 2 half subs for each 1. Also topped each with a small dash of Parmesan cheese.. Made for I Recommend..
4

(6 inch) hoagie rolls, hollowed out

2

tablespoons olive oil

2

cups mozzarella cheese, shredded (if you like very cheesy meatball subs, you may want to have extra mozzarella on hand for topping)

12

meatballs (I use Family Favorite Basic Meatballs, see recipe posted separately)
fresh tomato sauce (see recipe posted separately)
grated parmesan cheese (fresh or canister, your preference)
Preheat oven to 450 degrees F.
Slice a thin layer off the top of each sub roll. Remove some of the bread inside to form a bread "boat". I like to reserve the unused bread chunks for fresh breadcrumbs, or they can be used in bread pudding.
Brush inside of hollowed rolls with olive oil.
Fill bottom of buns with 1/2 cup shredded mozzarella each. Place on a baking sheet and bake until buns are lightly browned and cheese is melted.
Fill subs with Fresh Tomato Sauce and 3 meatballs. Top with more sauce, sprinkle with the grated cheese (and more mozzarella if you like).
Return subs to oven briefly, just to melt the cheese on top.
Be sure to have lots of napkins handy, and enjoy.