Moussaka Stack (21 Day Wonder Diet: Day 16)
Sara 76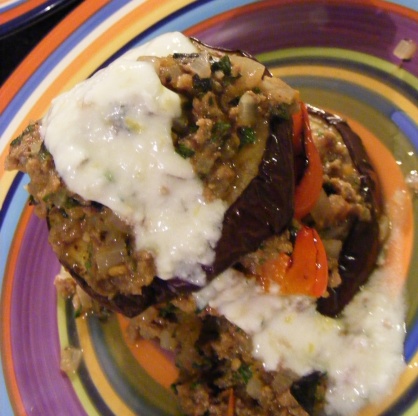 This is Day 16: Dinner on the 21 Day Wonder diet. This is my absolute favourite dish on this diet! Moussaka is one of my favourite dishes of all time, and I was thinking the "diet" version would be a major let-down...Not so! The flavours are all there, and it satisfied the craving I was having for some good Greek food! You can use baby spinach instead of rocket, if you want.

Made this for dinner for my Fiance and I. Great! I salted and bled the eggplant before roasting in the oven (40 mins). I tossed the arugula with some of the yogurt sauce before stacking the eggplant. Topped with a little more yogurt sauce. This was great!! Wouldn't mind trying the authentic version, but this was really filling for a lower calorie meal.
Cook onion, garlic and beef stock in a medium frying pan until onion softens. Add beef, tomato and spices; cook, stirring, until beef is browned. Add extra stock; bring to the boil. Reduce heat; simmer, uncovered, about 5 minutes or until liquid is absorbed. Remove from heat, stir in herbs.
Meanwhile, slice eggplant lengthways into 6 slices; discard the 2 outside pieces. Cook eggplant and capsicum on heated grill plate until browned and tender.
Combine yogurt, rind, and juice in a small jug.
Stack beef mixture, eggplant, capsicum and rocket on plates; drizzle with the yogurt mixture.