Dr Tebi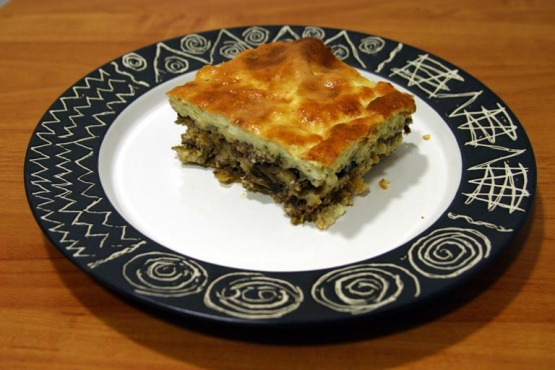 Top Review by Roosie
Yay! Yummy moussaka! I tried this recipe because it sounded the most like I'd want my moussaka to turn out of all the recipes on this site and also, I figured you can't go wrong with a recipe by the Mean Chef. I was right! It's very good. We used 2 large eggplants rather than 3 medium and still had lots left over. We also sliced them thinner, closer to 1/4 of an inch, rather than 1/2 inch, due to personal tastes. Also used 100% pomegranate juice, as we have no access to wine, though I'm sure wine would have been pretty much better. We made our own breadcrumbs just by toasting some bread- but definitely used much more than 1 cup bread and 1 cup parmesean cheese. We also had to about double the wine/pomegranate sauce the lamb simmers in because after we put in the initial ammount the lamb was too dry to really simmer and there wasn't even enough sauce overall. Let everyone be forewarned, though, this make A LOT. You are probably not going to want to divide what you make into 8 and just eat that big old chunk- it's super filling too. My 200+lb Italian boyfriend who loves to eat and who loves mediterranean food and eggplant gets full with a pretty small piece. But it's great. We made this pretty late at night, so we just froze it (we made 1 8"x8" dish and filled 2 more disposable aluminum loaf pans with the moussaka) and baked it for just over an hour at 375°F and it came out great. It was kind of hard through the eggplant to cut, but got easier once we refigerated it and the leftovers microwave well. Overall, this has really good flavor, although I think I might like even more. The custard on top is wonderful and this is, overall, a GREAT moussaka. Thanks Mean Chef!
Brown eggplant slices in olive oil (or, spray with olive oil and bake@350* for 10-12 minutes).
Heat 4 tbs oil and cook onions and garlic until golden.
Add browned lamb and cook together to blend flavors.
Combine wine, tomato paste, cinnamon, parsley, salt and pepper.
Stir into meat and simmer, stirring frequently until all the liquid is absorbed.
Preheat oven to 375°F Prepare topping.
Melt butter, add flour mixing well.
Add hot milk, stirring constantly until thick and smooth.
Remove from heat, cool slightly, stir in beaten egg, nutmeg and ricotta.
Grease a casserole dish and sprinkle the bottom with bread crumbs.
Arrange alternate layers of eggplant and meat mixture, sprinkling each layer with bread crumbs and grated Parmesan.
Top with the cheese custard.
Bake 1 hour or until top is puffy and golden brown.
Cool 20-30 minutes before serving.
Serves 8.
This can be frozen uncooked.