Brenda.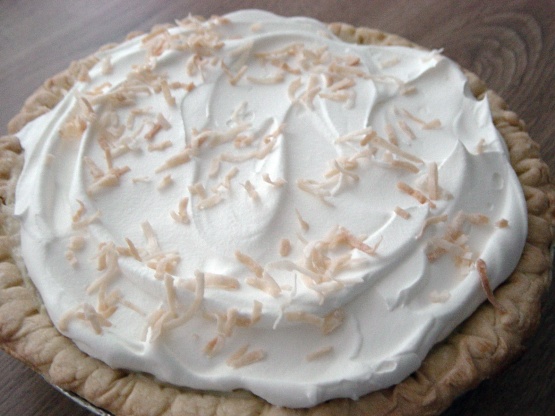 I got this recipe off of a package of Mounds coconut. This creamy pie is a delicious way to satisfy your coconut cravings!

add the first four ingreidients, mix well, add eggs beat well.Slowly add milk a little ar a time, stiring well after each addition. Cook over medium heat ,stirring constantly till mixture comes to boil boil 1 minute ,or until mixture is thick remove from heat add butter ,vanilla and coconut. Mix well and pour into warm pie schell.Cover with plastic wrap and chill, when cool put whipped cream or cool whip on top, sprinkle with toasted coconut for a pretty and tasty top. ...........I find that 2/3 cups of sugar makes it a little to sweet ..I prefer to use 1/2 cup sugar. This is a very creamy wonderfull pudding one of the best I have ever used. To make a choclate pie increase the sugar to 1 cup add 2 tablespoon's cocoa powder to the dry ingreidients.
Combine the first 6 ingredients in a saucepan.
Slowly bring to a boil whisking constantly.
Continue to boil for 1 minute.
Remove from heat.
Stir in butter, vanilla, and coconut.
Pour into prepared crust.
Cover with plastic wrap and chill for at least 8 hours in the fridge.