ImPat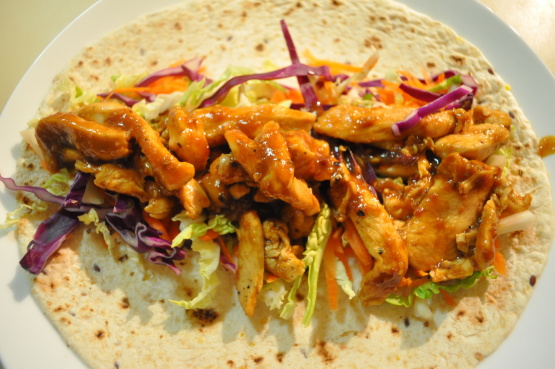 From Betty Crocker. I did change up a bit. Makes for a nice and very easy meal when you are pressed for time.
This made for a quick, tasty weeknight meal, even having to use homemade hoison sauce ( Recipe #379686 ). It was a good use of the rest of the leftover coleslaw mix in the fridge. Served with some edamame and fruit. Thanks for posting!
In a 10 inch skillet, heat oil over medium-high heat.
Pepper chicken and put chicken in skillet and cook for 8 to 10 minutes, stirring occasionally, until no longer pink in center.
About 2 minutes before chicken is done, if using, add red pepper flakes and garlic.
Stir in hoisin sauce, ginger, wine, sugar, coleslaw mix and carrots. Cook 4 to 6 minutes, stirring constantly, until vegetables are crisp tender.
Warm tortilla as directed on package.
Place a portion of chicken mixture on each tortilla, roll tortilla around filling.
If desired, you can serve with plum sauce or other sauce of your choosing.