Mother's One-Hour Rolls (Mors Tvebakker)
Brenda.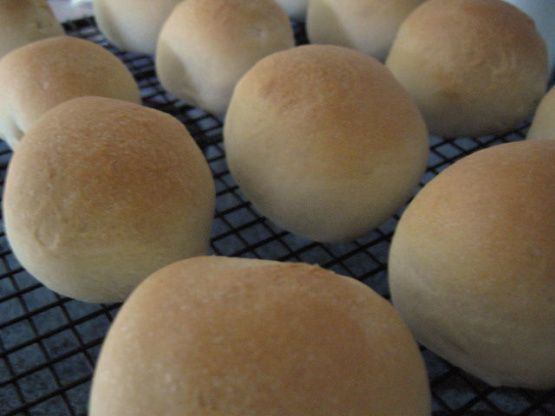 Another Danish recipe found online that I am posting for ZWT 6. Sounds yummy and quick for a yeast roll, but I haven't tried them yet, which I had the time to do so before ZWT. It doesn't state amount of servings, but with 6 cups of flour, guessing it to be around 36 rolls?

Delicious! I halved the recipe and got 15 nice sized rolls. I found the dough to be a bit dry and had a hard time keeping it firm yet smooth. I ended up adding about 1/4 cup of extra water as I kneaded and the result was a very firm dough that held together nicely. I heated my oven to warm (170 degrees) and then opened the door to get the heat suggested while rising and it still took about 45 minutes. At 30 minutes nothing was happening and then poof! it doubled- lol I also let the rolls rise after formed for 30 minutes covered with saran wrap. I have to tell you we had a very funny day here weather wise and that could have contributed to the extra water and extra rising times. In the end we were pleasantly surprised at how soft and light the rolls were. I served these with recipe #424502. Made for Scandinavian region of ZWT 6.
Add the butter, ½ cup of water, sugar and salt to the milk. Let cool.
Soften the yeast in the 1/3 cup of warm water (110 degrees) until it is foaming and then add to the first mixture. Add the sifted flour.
Knead to form a good firm dough. Knead 5 minutes more. Put in a warm place, out in the hot sun or at the back of your stove when the oven has been on. (For this recipe the yeast itself needs to be at a temperature of 88 degrees.) After 15 minutes have elapsed, punch down the dough and form into rolls.
Place on a shallow, greased baking pan and let rise in the same warm spot as before until the rolls have doubled in size.
Bake in a preheated 400º oven 15 to 20 minutes.