Mothers #1 Vegetarian Chili
loof751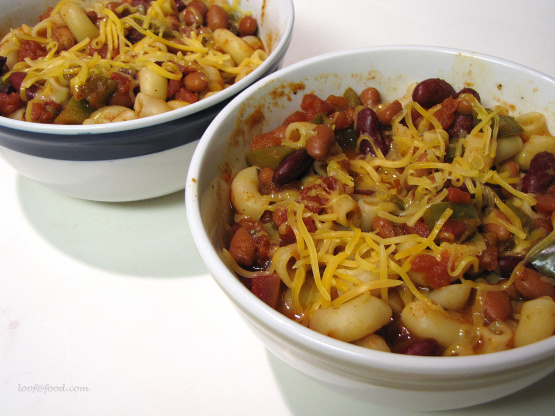 This is so good, this is a hand-me-down family recipe.

Super easy and just the ticket for a busy, snowy day. I did have to kick up the spices a bit by adding about 1/4 teaspoon each of garlic powder and cumin, also little molasses, something my mom taught me and then reduced the butter to about 1.5 tablespoons. Tasty and really filling. My DH loved this and is looking forward to taking the leftovers to work. Thanks for sharing the recipe!
In a4 or 5 quart slow cooker, combine tomatoes, kidney beans, pinto beans, onion, bell pepper, chili powder,pepper, oregeno, basil, and 1 cup of water.
Cover and cook on low for 4-5 hours, or on high for 2 hours.
Cook macoroni, according to package directions, drain and stir butter into hot macoroni.
Fold into chili.
If desired, top each serving with shredded cheddar cheese.