Derf2440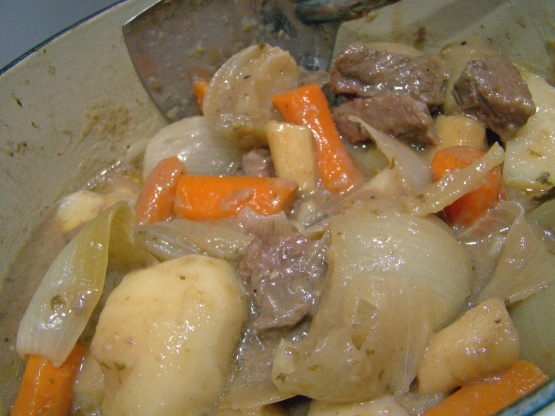 This recipe of my grandmother's was passed to me from my mother. It is basically an "Irish Stew", keeps well and tastes very good. This stew freezes very well and would make a great make-ahead dish.

This is a good basic recipe, but I like to add celery, green pepper, green beans, and grated fresh ginger root to mine. The ginger root especially gives it a special touch. A dash of Tobasco or cayenne pepper and some jalapeno chiles will give extra tang to it for those who like the hotter version. I also like to add dumplings to it at the end at let them cook slowly in the gravy, which I thicken with corn starch. A little burgundy wine, maybe one half cup also adds flavor. I use olive oil in place of Lard. Of course, use the ingredients you and your family like and in the quantities they like. If some like it hot and some do not, omit the cayenne and tobasco and place these condiments on the table for each one to use as he or she sees fit to compliment the individual taste of all family members. Mushrooms are good in this too and I prefer the stew itself to be at least half or more meat in ratio to the vegetables with plenty of gravy in it.
For this very old recipe to work it must be made in a cast iron pot or skillet. Other pans can, of course be used, but the results are not the same. Melt the grease in the pot; coat the meat cubes with flour and add them to the hot grease.
Stir and fry till all sides are brown.
When the meat is nice and brown but not cooked, add enough water or beef stock to cover, the bay leaves, parsley, and salt. If using water you may reinforce with two bouillon cubes.
Cover, and cook on low for about an hour, adding water or broth as necessary.
When the meat is tender add some scrapped carrots, cut in half.
Cook these for about 20 minutes then add peeled, quartered potatoes and several peeled, halved onions.
Cook for another twenty minutes or until the potatoes are soft.
At this time the stew may be eaten, however it is really better the next day. That is the way I suggest serving it.