flower7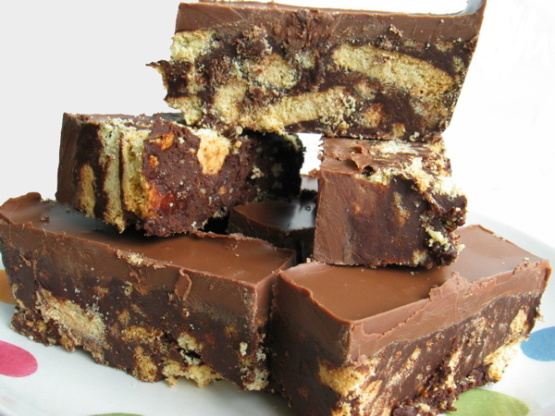 This is a very very rich chocolate bar, Unfortunately once you have tasted this slice you can not leave it alone, It was given to me about 15 years ago by a friend. The reason for the name if the slice is because a mother in laws tongue is usually bitter sweet.

WOW! This was really easy & great tasting. I must admit I did not use dark chocolate, I used Milk Chocolate. The family LOVED it, maybe a little too much! I will definately make these again. Thank you.
Melt the butter and dark chocolate with the syrup in a pan.
When melted, stir in icing sugar and cocoa.
Be sure to sieve the cocoa and the icing sugar.
Coarsly crush the digestive biscuits and stir into syrup mixture. Mix well.
Press mixture into a greased tin approx 21x21x3.5cm. Leave mixture in tin and leave in the fridge for a few hours.
When slice is properly chilled, melt the milk chocolate and spread onto the top of the slice. When milk chocolate has set, cut slice into fingers. ( Tongues )
You should get about 25 tongues.
Enjoy.
Whitby Tart.