Mother-In-Law Three Bean Salad

This came from my mother-in-law (obviously) and was a staple on her table at holidays. This is in honor of her!
1 (15 ounce) can cut green beans, drained
1 (15 ounce) can kidney beans, drained
1 (15 ounce) can wax beans, drained
1⁄4 cup sliced celery
1⁄4 cup sliced onion
1⁄2 cup sugar
1⁄2 cup vegetable oil
1⁄2 cup cider vinegar
Directions
Combine all ingredients in a container with a lid.
Mix well.
Refrigerate overnite, stirring occasionally.
Most Helpful
Sometime simple is just better! This went together super easy. I used red onion, since we like that in salads. This is the perfect accompaniment to a summer barbecue dinner! Thanks for sharing. Made for Culinary Quest 2014.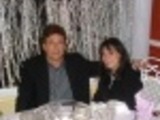 Very good salad. It was easy to make and even the kids like it.
Very good! My husband is diabetic & I substituted Splenda for the sugar. It works great. We`ll have this salad often.