pines506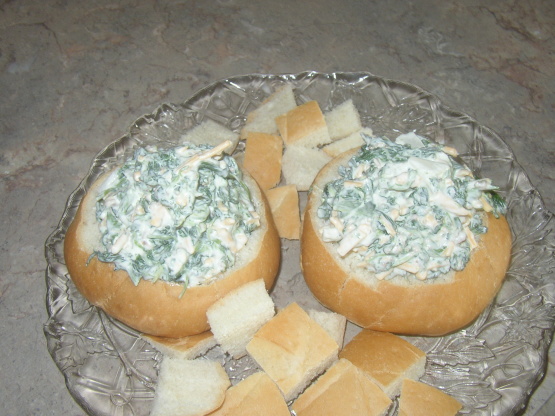 This recipe was given to me by a very sweet lady who happened to be the mother of an old boyfriend, many years ago. I make it for all my get togethers, and everyone loves it.

This recipe received everything from 1 star to 5 at a family dinner when I made it. The concept of spinach in a dip is totally new to our part of the world, so maybe it's also a matter of getting used to a new type of taste on our part. All nine guests tried it,and either loved it to bits or hated it with just two sitting in the middle with their ratings. Personally, it's a totally new taste to me too, but it's growing on me as I'm not used to eating spinach cold :) Very refeshing I thought over all, and I will be adding this to my handwritten cookbook to make again for the family members who adored it. Please see my rating system... three stars from me doesn't mean that I hate your recipe at all, so I will definiately be making this again, with pleasure. I have taken the average of all who rated it and all the comments into account, so a wonderful 3 stars! Thanks !!!
Thaw spinach. Squeeze out as much water as you can.
Mix ingredients starting with the mayo and spinach.
It's best if you refrigerate the dip overnight and put in the bread bowl just before serving.
Carve out center of pumpernickel bread. Put dip inside. Make cubes out of the chunk of bread you took from the middle.
Arrange on a platter with cubed pumpernickel surrounding the bread bowl or you can purchase a small loaf of cocktail pumpernickel.
You can also use 1/2 lb of well drained, crumbled bacon instead of the bacon bits.