twissis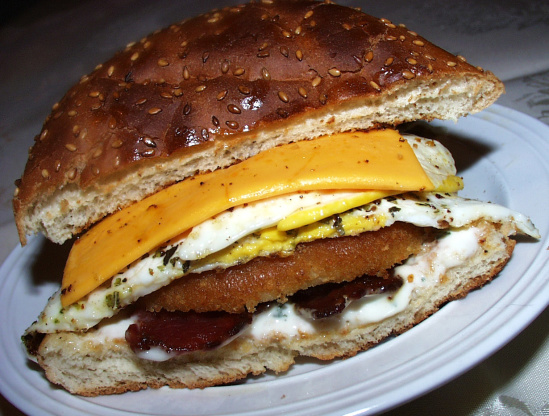 This is my adaptation of a delicious sandwich served at the Great Lost Bear in Portland Maine. Fried chicken, fried egg, bacon and cheese on a bulkie roll. YUM.

An excellent sandwich & combo of flavors, KelBel. It even resembles a much-favored sandwich here in Iceland. They use hamburger meat instead of chicken & do not use ranch dressing, but this was much more flavorful. I could not find a good roll to use that I liked, so settled for over-sized hamb buns. I did not realize till I was ready to post the pic that I left off the 2nd slice of cheese, but the sandwicn did not seem to suffer from my mistake. This is a BIG sandwich, very filling & was a complete meal for us w/just fruit for dessert. Thx for sharing this recipe w/us.
Dip chicken into ranch dressing then into bread crumbs.
Heat oil in skillet. Pan fry chicken until done, about 15-20 minutes. Remove from pan, keep warm.
Melt butter in same skillet. Cook eggs over easy. (keep egg yolks runny or break them, your choice).
Slice bulkie rolls in half and toast in toaster oven.
On each roll, place one chicken breast, one fried egg, 1 slice cooked bacon, broken to fit, and 1 slice american cheese.
Add mayo, mustard, ketchup, or bbq sauce to finish to your liking.