Most Tender Pork Loin Roast Ever
Derf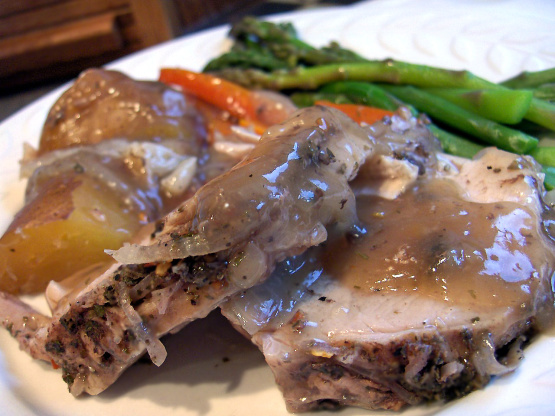 I had this delicious and super-tender pork roast at my friend's home. It didn't even require a knife to cut. I had to get this recipe. It's unbelievable! It was so tasty no one needed the gravy, but the recipe is included just in case you want it.

This is the best pork loin roast I have ever tasted!!! (Not to be confused with the small round pork tenderloins) this is by far the B~E~S~T!!! Do not change a thing...The veggies came out delish...It is an ultimate KEEPER!!! I don't give reviews like this lightly....Even my pickey Pickey PICKEY husband loved it!!! Ummmm the gravy!!! Don't pre brown the roast...It really does brown itself...Very easy prep....Quick, Yummy & Easy!!!
Make 6 horizontal cuts down center of roast 3x3". Stuff each cut with a slice of onion, reserving remaining onion.
Place roast in ovenproof dutch oven. Sprinkle with seasonings. Pour broth around roast.
Place remaining onion slices, pepper, bay leaf, carrots, and potatoes around roast.
Cover bake at 325°F for 2 1/2 hours.
If desired, bring pan juices to boil; boil 10-12 minutes or till reduced to half. Discard bay leaf. In a small bowl combine water and cornstarch. Blend till smooth. Add pan juices. Cook, stirring till mix is bubbly and thick.