Most Delicious Garlic Cheese Bread
Ms B.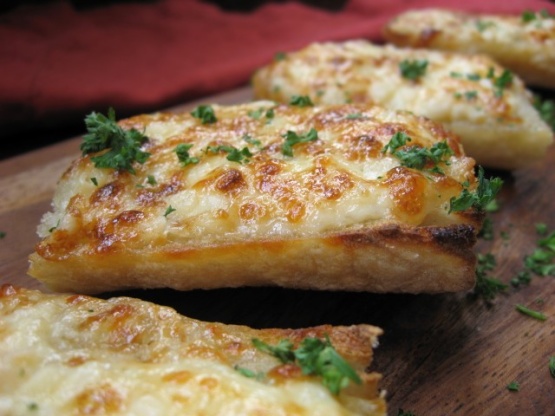 This recipe is not going to help me keep my girlish figure, but it is soooo delicious! You can adjust the ingredient amounts to your liking and make it your own. I've always wondered why my garlic cheese bread at home never tasted quite as good as it does at a restaurant. I think it's the mayonnaise and the freshly minced garlic.

This topping looked SO good we tried it on Pork Chops last night. And they turned out GREAT!. We had 5 thin sliced pork chops, so I cut the recipe down a bit in quantity. I broiled them on both sides and then slathered the mixture on and broiled it till it was brown and bubbly. SO GOOD! We mixed a little cut up fresh spinach with the mixture and it really added something!
Slice or halve the bread and brush one side of slices, or cut side of halves, with olive oil.
Place the bread under the broiler until it starts to look toasted.
Remove.
Mix the garlic, mayonnaise, Parmesan, and salt together.
Spread over the bread.
Place the bread back under the broiler until the tops are nice and bubbly and beginning to brown.
Garnish with parsley flakes (or not).