Parsley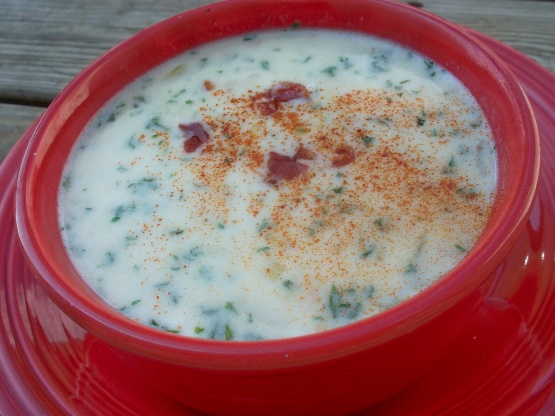 This is from Mo's Restaurant that have many locations along the Oregon Coast. They make the best clam chowder and this is supposed to be their recipe. I have a recipe for a lactose free version as well if you need it.

very close to Mo's Clam Chowder, My step mom sent it to me and I was trying to find it again I think this is it http://www.katu.com/amnw/recipes/6109616.html but the one listed is very close and easy to follow
In a large pot, sauté the bacon slices until cooked through, about 5 minutes. Remove them from the pan.
In the bacon grease, sauté the onions with a pinch of salt and cook them for about 5 minutes.
Add the potatoes to the onions as well as the flour and stir the flour well. Cook the potatoes for about 10-12 minutes and the potatoes start to soften. Season the potatoes with salt, pepper, lemon pepper, and parsley. You may crumble the cooked bacon and return them back to the pan if desired, but Mo's doesn't keep them in their soup, just as a flavoring. I personally add them as not to waste them!
Pour in the milk and the water and clams with juice, and cook to a boil. Turn the stove down to med heat and cover with a lid. Continue to cook for about 15 minutes and the potatoes are tender.
Pour the soup into individual bowls and serve with a dollop of butter and a sprinkle of paprika.