Morton's Blue Cheese Dressing
twissis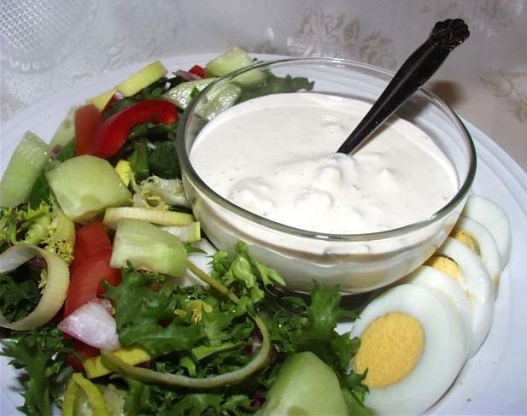 From the legendary Morton's Steak House. Simply amazing Blue Cheese Dressing. As much as I love to lighten things, this just isn't the same using light ingredients. This calls for Durkee's Famous Sauce, if you can't locate Durkee's, I have another recipe for a similar sauce called Mustard-Mayonnaise Sauce. Cook time includes overnight chilling.

I made this for a Morton's salad with bacon, egg, anchovy and it was fabulous!! Everyone (kids too!) loved it. I added a tbs. Dijon mustard, about 2 tbs. Worcestershire sauce, and some fresh parsley. Heaven!
In a large mixing bowl, whisk together the mayonnaise and sour cream.
Add the buttermilk, Durkee sauce, and seasoned salt.
Whisk until well mixed.
Season to taste with salt and freshly ground black pepper and whisk again.
Using a rubber spatula, gently fold in the blue cheese.
Transfer to a storage container with a tight-fitting lid and refrigerate for at least a day and up to four days.