Morta De Chocolata Gelatini (Death by Chocolate Martini)
Catnip46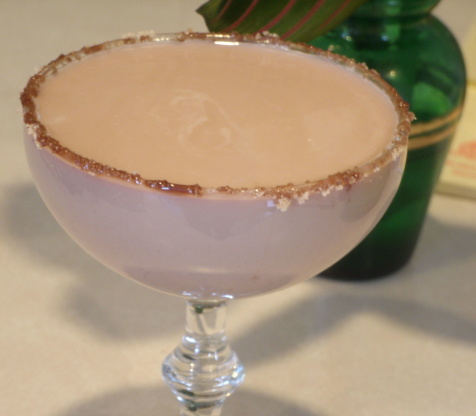 Turn your everyday cocktail into something special with this recipe. For a mocha flavored cocktail, just add a dash of instant coffee granuals in the blender ingredients. Created by Bird for Buddha. ;)

Now that's what I call a drink. Soooo very good! I didn't have any Kahlua on hand (I'll have to make some again, Recipe #18458, very good stuff BTW). At first I didn't care for the syrup/brown sugar on the rim; for some reason it reminded me of coconut (which I hate with a passion). But the more I worked my way around the glass the more I liked it. LOL. Instead of using chocolate gelato I could see using chocolate mousse or yogart. Next time I'll try one of those. Keeper for sure. Made for 2012 Zaar Cookbook.
Add gelato, half and half, chocolate syrup, and liquor to a blender and blend to combine.
Using 2 saucers, add a circle of some chocolate syrup to one, and a circle of brown sugar to the other. Dip the rims of martini (or daqueri) glasses into the kaluha then into a ring of sugar.
Pour drink into glasses and top with a sprinkle of chocolate shavings and serve.