Debbwl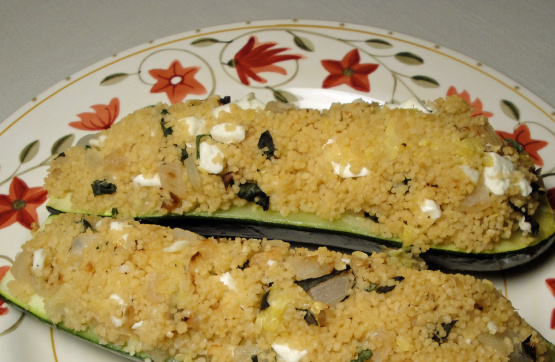 This recipe comes from Chef Michael Smith of Food Network. Since the cooking time is not writing and I've not tried this recipe, I guess that it can be around 30 minutes. If you do it, tell me the cooking time and I'll write it.

We don't pick our zucchini too big, so I just made a half mix of the filling for the two of them and the two of us ate the lot! They were seriously yummy and the only change I made was to add a clove of garlic to the onion. I'd also add in some cumin next time too as it seems so Moroccan to me. Thanks for posting-I'll be using a couple more of our zuccs in this really soon.
Preheat your oven to 350 degrees.
Place zucchini; cut side down, onto a baking dish and roast in the oven until it turns golden brown. Scoop the pulp out from the centre of the zucchini, keeping the skins intact for stuffing. Reserve pulp and skins.
Heat the oil in a saucepan and add the onion. Sauté until golden brown then add the zucchini pulp, couscous, chicken stock and season with salt and pepper. Bring to a simmer then turn off and rest until the couscous has absorbed all the liquid. Add the basil leaves and feta cheese and stir well. Spoon the mixture into the zucchini skins and place in an 8" by 8" baking dish. Bake until golden brown and hot.