Moroccan Tomato and Capsicum Salad
Tisme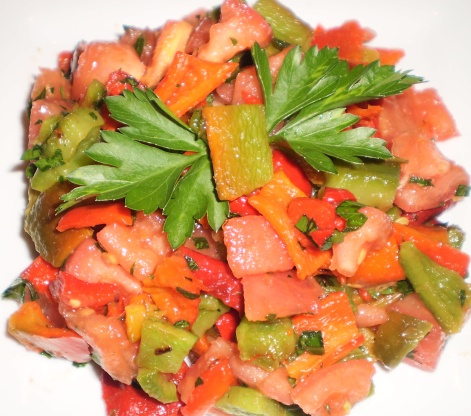 A salad that I like to serve with Moroccan style dishes. It also goes well at a BBQ. Prep time doesn't include standing time for the roasted capsicum.

Top Review by Tisme
I made this recipe a few weeks ago and must have forgotten to review it. I dont know why because this is one great salad, the flavours are so wonderful together, the only thing I did change was the amount of salt I only add half teaspoon. I took this salad to work for lunch next day and the flavours were so much better the next day. I must admit I ate the whole lot on my own, and I still could of had more! Great recipe for summer Jan. Can't wait to plant capsicum next year for this recipe!
Quarter the capsicums, and remove the saeeds and membranes.
Roast under a grill (broiler) or in a very hot oven until the skin blackens and blisters.
Place in a paper or plastic bag for about 10 minutes.
Peel.
Chop the capsicum coarsely.
Drop the tomatoes into boiling water, count to ten, then drain and refresh in cold water.
Peel and seed, then chop coarsely.
Combine the capsicum and tomatoes in a bowl, add the combined remaining ingredients and mix well.