Directions
In a large bowl combine oil and lemon juice.
Dice all fruit and veggies and add to bowl.
Salt and pepper to taste.
Serve at room temperature or refrigerate and serve chilled.
Best served within 24 hours.
Reviews
Most Helpful
It is a simple salad that has a clean fresh taste. I really liked the apples mixed with the cucumbers and tomatoes. I loved it!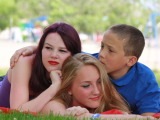 I used a Gala apple when I made this. So it had a sweet burst of flavor from the apple. I'd like to try this again using a Granny Smith, for that pucker factor. But the salad was still light and tasty. I made this for the ZWT III 2007 game - North Africa/ Middle East region.

Easy and refreshingly tasty. Green peppers and apples didn't immediately strike me as flavours that would go together, but they did :) Liked the low calories too.. and a nice change from the usual salad suspects, Please see my rating system, a lovely 4 stars .. Thanks !