Moroccan Style Spicy Chicken & Rice - 25 Minutes to Make!
Annacia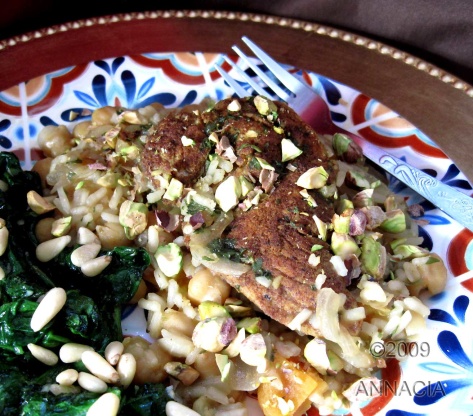 This is a super quick, super tasty recipe! It will turn out best if you use the Moroccan style Ras el Hanout as opposed to the Algerian one - the Moroccan version has warmer spice tones & the Algerian has more earthy tones. You can add another dimension to this with a little bit of finely chopped preserved lemon.

So much flavor and texture in so little time. I love Moroccan style foods and I use a lot of chicken so this will, without doubt, be making repeat appearances here. I can't think of a single thing that I would change. It's richly spiced without being overpowering in any way. I used the Recipe #262189 mix (my favorite) and made up a fresh batch this morning to use in this great dish tonight. I was a bit concerned that the chicken was going to end up on the cooked to dryness side since it was a thinnish 4 oz breast but it came out moist, tender and delicious.
Coat chicken with the ras el hanout. Fry the onion in butter until soft.
Add the chicken, then cook for a few mins more.
Stir in the rice and apricots, then add the stock cube with 700ml boiling water and the chickpeas.
Cover the pan and simmer for 15 mins or until the rice is tender and has absorbed most of the liquid.
Remove from heat, add parsley & mix. Serve each portion with a sprinkle of pistachios.