Moroccan-Style Shish Kebab
Prep 20 mins
Cook 15 mins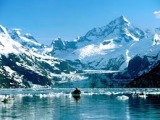 A fun twist on your average shish kebab. The recipe calls for the use of either lamb or beef. I think it may also be good on chicken. Serve with rice. Enjoy! Note: the timing does not include marinating.
Directions
Combine yogurt, lemon juice, olive oil, onion, mint,.
cilantro, salt, pepper and cayenne pepper in large bowl. Add.
meat to marinade; refrigerate 4 to 5 hours for lamb, overnight.
for beef.
Remove from refrigerator 2 hours before cooking.
Just before cooking, arrange meat on skewers alternately with.
tomatoes, green peppers, onions and mushrooms. Place on grill.
3 inches above coals, which should be red hot but not flaming.
Cook 5 minutes on each side, turning skewers to brown meat.
evenly.
I recommend serving with rice.
Reviews
Most Helpful
Woohoo!!! What a great shish kebab recipe!!! I made this, scaled back to serve the two of us and used chicken as the protein. I just realized when looking at the recipe that I cut everything in half except the cayenne pepper, oops!! I am a wimp when it comes to heat and I did notice a slight heat, but nothing too strong, so this is great recipe for others who don't deal with the spicy heat. When I asked DH what he thought, he stated it was pretty good, believe me, that is a thumbs up from him. Thanks for sharing the recipe!! Made for ZWT 9.
Absolutely fantastic. The flavors were terrific and the meat tender as can be. I did use flanken cut beef ribs instead.
We absolutely loved this! We did make a few changes (used Greek yogurt instead of regular yogurt and changed out the veggies), but we used the same spices as indicated. It has a nice kick that's smoothed by the yogurt. The beef was just bursting with flavor. Definitely a keeper for this household!