Thorsten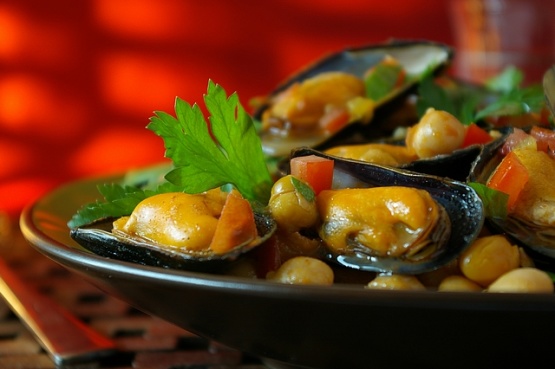 This one is from Gourmet May, 2006. "Chickpeas transform saucy mussels into a meal that's as hearty as it is seductive." I have not made this one yet, so times are an estimate.
Cook onion, garlic, and spices in the olive oil in a 6-quart heavy pot over medium low heat. Stir until onion is softened, about 6 minute.
Stir in the vinegar and simmer for 1 minute.
Add the chickpeas, sugar, and tomatoes with their juice.
Increase the heat to medium and gently simmer, uncovered, stirring occasionally until slightly thickened, about 15 minute.
Add the mussels and return to a simmer.
Cover tightly with lid and cook until mussels just open wide, about 3-6 minute Discard any mussels that remain unopened after 6 min.).
Stir in parsley and serve in shallow bowls.