Sara 76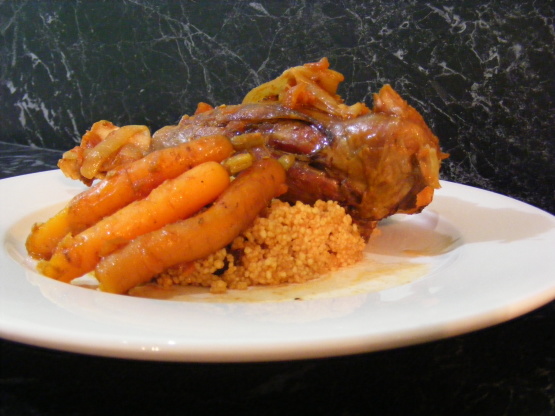 From a BHG publication, Slow-Cooker -- All-Time Favorites. I used bone-in lamb neck, which is a great cut for this kind of dish, if you can find it. I have not made the couscous part of this recipe. The stew itself was delicious, and even better the next day.

This was amazing! I used lamb shanks, which were just melt in the mouth soft by the time they were cooked, and fresh baby carrots. I also added salt & pepper, and a tablespoon of tomato paste. Apart from that, I followedd the recipe as written. The cous cous worked perfectly, and went so well with the lamb! I had never made cous cous like that before (using the pan juices) so it was a yummy surprise! Thankyou for sharing this recipe! :) [Made for PRMR]
Trim fat from meat and cut into 3/4 inch cubes.
The recipe does not call for it, but I browned my meat and deglazed the skillet with some of the broth.
Place meat and vegetables in 3 1/2 to 4 qt slow-cooker. Add broth and spices.
Cover and cook on low for 9 to 10 hours, or on high for 4 1/2 to 5 1/2. I found that 8 hours was enough, and with newer slow cookers, I suggest you check earlier for doneness.
If using low heat setting, turn to high.
Remove meat and vegetables with slotted spoon and keep warm.
Skim fat from the juices and reserve juice in the cooker.
Stir the couscous and the raisins into the juices.
Cover and cook for 5 to 7 minutes.
Note: I just served it with rice, and personally would make the couscous in a saucepan;. If you are going to try the above, I would measure the juices to make sure you don't have too much and that you have enough.
Note2: If using bone-in lamb, this will be more like 4 servings.