Moroccan-Style Chicken With Lentils
JustJanS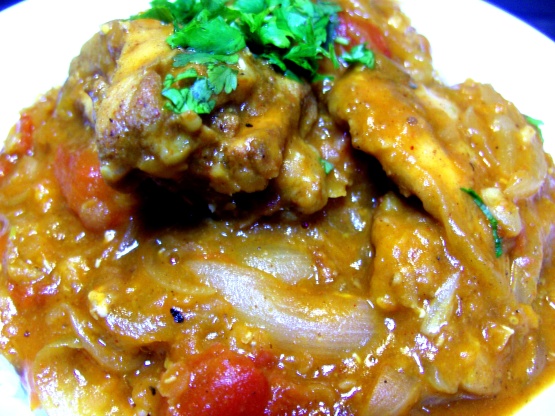 This rich chicken dish has vibrant North African flavours and goes fantastically with rice or couscous. Can be frozen for up to one month.

Yum!!! I made a half recipe of this tonight. I used 1/4 teaspoon powdered cinnamon instead of 1/2 a stick and finished it with coriander rather than mint as that's what I had on hand. I don't have my scale with me, but another member weighed the lentils and told me the one ounce I needed was 4 tablespoons. I guessed the apricots and put in 12 (which is about the usual number for this sort of recipe). This was so very good, I would eat it again tomorrow (sadly no leftovers though).
Heat oven to 350°F Rub 1 tbsp olive oil into the chicken thighs. Mix the garlic, cumin, coriander, salt, pepper and paprika together, then rub all over the chicken thighs on both sides.
Heat a large flameproof casserole, add the chicken thighs and cook over a medium heat for 5 mins until golden on both sides.
You might need to do this in 2 batches, depending on the size of the casserole. Set the chicken aside. Turn down the heat, add the remaining oil and fry the onion for 5 mins until softened.
Stir in the rest of the ingredients, apart from the mint and bring to the boil. Place the chicken thighs on top and pour in any juices. Cover and cook for 1½ hrs, until the meat is tender and the sauce thickened. Season to taste.
Can be cooled and frozen at this stage for up to 1 month.
Defrost thoroughly in the fridge, then gently warm through. Scatter with fresh mint leaves and serve with couscous or rice.