Pneuma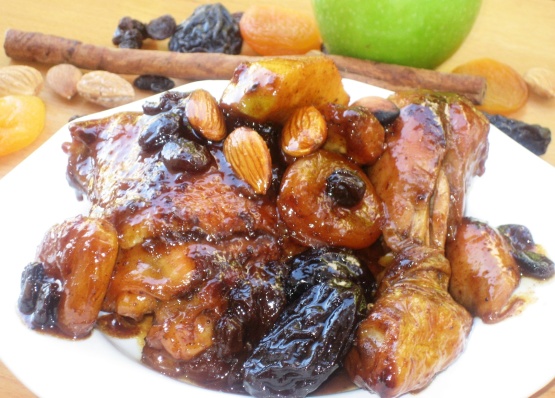 This comes from an Empire Kosher cookbook. I haven't yet tried it, but will soon. Note that it is kosher for Passover.

YUM! I was going to use a package of mixed dried fruit that I was sure I had (but didn't) and skipped the raisins, but threw in some (fresh) apple slices. I used apple juice instead of the wine, and almost filled up on the smell alone! WHAT A GREAT TASTE! It was also easy to throw together. Thanks so much for a refreshing, different dish for any night of the week!
Heat oil in a large, heavy frying pan.
Brown chicken pieces, seasoning with salt, pepper, cinnamon and honey.
Scatter the dried fruits around the chicken.
Pour in water and wine. Bring to a boil then lower flame and simmer for about 1 1/2 hours, or until sauce is thick and chicken is tender.
Peel and core the apples and cut into quarters. Add to the pot and cook until soft.
In a separate fry pan, brown the almonds until golden in a little oil.
Serve chicken pieces with fruit spooned on top and sprinkled with almonds.