Jubes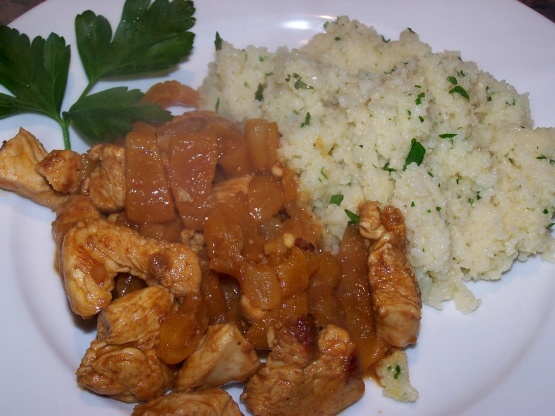 I was watching the Food Network one day, and there were two episodes which focused on Moroccan style dishes. They both sounded really good, so over the next few months, I fused the two main recipes into one. This is really nice served with couscous, roasted acorn squash, and a creamy mint yoghurt sauce.

One of my favourite dishes on Zaar. I've made this a couple of times now, and it doesn't cease to disappoint. Others have stated that they like to cut down on the chilli flakes. I keep them the same, but I do like my dishes reasonably hot. I did, however, double the amount of apricots. The one thing that I do disagree with is that should only simmer for 10 minutes at step 5. I turn the heat right down and let it simmer for around 1hr - 1hr 15. The result is that the meat is beautifully soft, and full of flavour. This is definitely a recipe I'm going to use again and again for years to come.
1

tablespoon olive oil

1

tablespoon cumin

1

tablespoon turmeric

1

tablespoon paprika

1

tablespoon coriander

1

tablespoon garlic salt

1

tablespoon red pepper flakes

2

lbs boneless skinless chicken pieces, cut into 1-inch cubes (breasts or thighs)

1

onion, chopped
1⁄2 cup dried apricot, cut into bite sized pieces

2

cups chicken stock
Add first 8 ingredients to a gallon sized zip top bag. Squoosh around (yes, that is the technical term) to coat the chicken evenly.
Heat your largest skillet over medium high heat. When it is nice and hot, add the chicken to the pan, spreading it in a single even layer.
Brown chicken; turn and brown other side, about 4 minutes per side.
Scoot the chicken to one side of the pan and add the onions. Saute until just carmelized.
Add apricots and chicken stock; stir gently to combine. Bring to a boil, then turn heat down and simmer 10 minutes.