Moroccan Street Potato Cakes
Bergy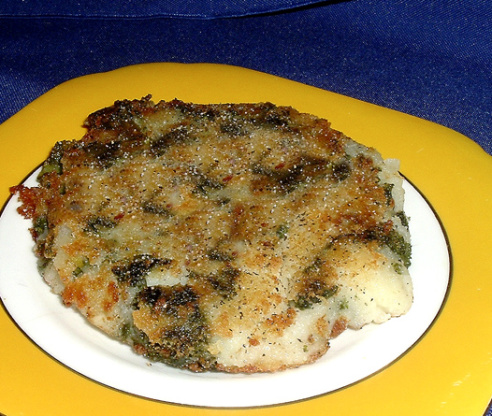 These are very inexpensive and generally sold as street food to be eaten on the street as an egg and potato sandwich stuffed into flatbread with a thin sauce tomatish or purchased and brought home. I have spoken to a couple of my favorite vendors and have come up with this authentic recipe. I adore the egg and potato sandwiches and also love these cakes simply dipped into sauce tomatish and eaten as is. This is poor man's food and sells for 5-10DH ($.70) a sandwich depending on how many eggs and potatoes you want in your sandwich. One of my favorites comes from a man with a table, frying pan, 5 litre jug of oil, a single gas burner, flats of eggs, stacks of bread and rows of potato cakes with bottles of sauce tomatish which his wife makes for him at home each morning to sell. Many of these vendors appear only late at night when all other places to eat have closed. Don't be tempted to use eggs to bind these or they will cease to be Moroccan potato cakes. Easy and yummy comfort food! These are also often eaten at room temperature and/or a bit cold though not from the fridge cold. c.2005

These were good. There could be a couple of reasons why some people are having trouble frying them. First, many people may be using western style mashed potatoes made with milk/cream and butter. You will probably fry the patties more easily if no liquid is added to the potatoes. You should boil the potatoes whole, unpeeled, until fork tender. When cool enough to handle, peel and mash the potatoes and add the remaining ingredients, then form into patties. You really don't even need the flour as the mixture is very easy to work with. I then heat a nonstick frying pan over medium-high heat. When hot, I add just 2-3 Table. oil and add some of the potato patties. Fry until golden on both sides. Drizzle more oil, a teaspoon at a time, if needed. Using too much oil causes potato patties to start falling apart. Thanks for sharing this inexpensive recipe.
Mix all but flour and oil together in a large bowl.
Form 16 patties using 1/4 cup of the mix to about 1/3 inch thick. Use floured hands if necessary.
Coat each patty with the flour, hitting to knock off any excess of flour.
Shallow fry in vegetable oil on medium to medium high heat until deep golden brown.
If you need to, you can refrigerate the floured patties to cook off an hour or so later or for ease in handling if you have difficulty. I have not found the need to do either.
These are a simple cake and not meant to be fancy; just really tasty. You can also replace the scallions with onions if you have no scallions. In Morocco and The Maghreb, we use what we have and don't worry about what we don't have. Fresh garlic is the best alternative you can use though as we don't have dried powdered here.