Moroccan-Spiced Pork Chops and Fruity Couscous
Prep 10 mins
Cook 48 mins

When I first found this recipe on the Weight Watchers website, I was amused by the idea of a Moroccan dish featuring pork as most of the natives I know from this country are Muslim. Though I will never serve this dish to them, I love the flavors of the marinade and have made some changes that make this truly delicious.
Directions
Combine harissa, cumin, coriander and 1/2 teaspoon cinnamon in a resealable plastic bag. (Use a non-metal container if you prefer.) Add chops to bag, seal and shake until well-coated. Marinate the meat for 30 minutes in the fridge.
Heat oil in a large skillet over medium-high heat. Cook chops until cooked through, about eight minutes per side.
Bring broth to boil in a medium saucepan. Add 1/4 teaspoon of cinnamon, turmeric and couscous. Turn heat down to lowest possible setting, cover and simmer for 5-7 minutes. Fluff couscous and mix in the apricots and cilantro.
Serve chops on top of the couscous.
Cooking time includes the time to marinade the meat.
Most Helpful
I'm a big fan of cous cous so this one was easy. The spices really complimented the pork chops and the cous cous was not dry. Very delicious!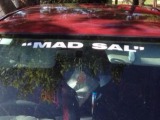 Very, very good. I cut my pork tenderloin into 2"-3" pieces, rather than leave it in 4-oz. chunks. Marinated for about 5 hours. I didn't like the look of our local fresh apricots, so I used dried. I've fallen in love with harissa -- great flavor, not too much heat! So this recipe was a real find (and a real keeper) for me. Thanks!

I wish I could give this lovely recipe one hundred stars! Used pork chops and marinated them for a good four hours. The harissa used was Harissa (Hot Pepper Sauce). For fresh apricots I substituted dried unsulphured apricots. Everthing came together beautfully and I felt the extended marinating time really enhanced the flavors. Spicy for us, but not incendiary! Don't forget the fresh cilantro for garnish! Served alongside of Arabian Cauliflower With Tahini. Husband and I have agreed next time to substitute lamb for the pork to test what that would taste like. Thanks for sharing a fabulous recipe! cg ;)