Moroccan Spice Rub (For Lamb & Other Meat)
Nasseh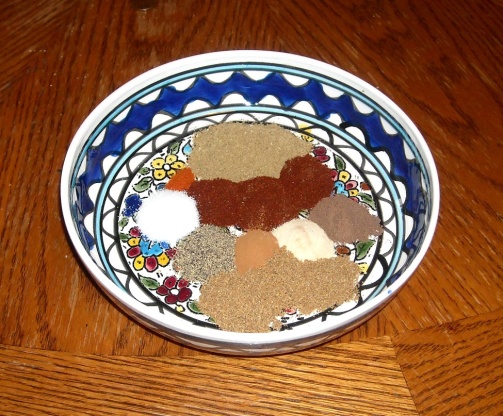 From The New Elegant But Easy Cookbook by Marian Burros and Lois Levine, c. 1998. If you want to add something a little extra to a rack or lamb or a leg of lamb, you can rub some of this on the meat, to your taste. You can also use on other types of meat.

I didn't like it so much on the first bite, but by the time I finished with my lamb, I decided I somewhat liked it. Not sure if it's because I've never had Moroccan before or because I omited the coriander.
Mix the cumin, paprika, coriander, salt, pepper, cinnamon, allspice, cloves, and cayenne thoroughly. Rub on the surface of the meat. Rub the garlic over the spices and refrigerate overnight. Without the garlic the spices will keep for months in a tightly covered, air-tight covered container.