Moroccan Spaghetti (Very Low Fat and Healthy)
Prose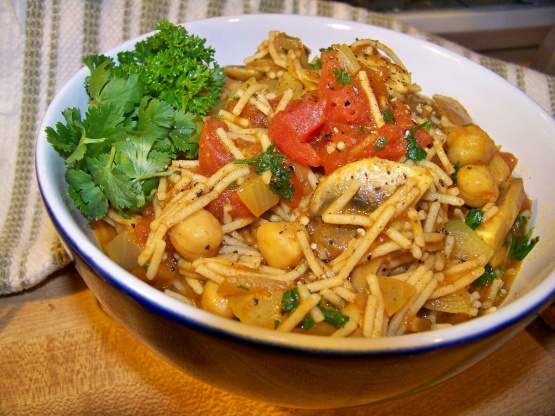 We had this for our main meal tonight. I rather heavily adapted it from the UK tv chef, Simon Rimmer's book 'Accidental Vegetarian'. I knocked out most of the fat he had in it (though it was all good fat) and changed around some ingredients to make it more low GI friendly. On top of being tasty this is pretty healthy. It is vegetarian, vegan, low fat, nearly saturated fat free and great for those of us with insulin issues because it is full of slow burning carbs with a low glycemic load. You could of course use normal spaghetti rather than the whole wheat kind but I use that just because it has a ton of fibre in it.

We liked this a lot. The sauce thickened in a nice way and all of the flavors worked together very nicely. I used green onion in place of red and added additional garlic, and served with some shredded parm. Adding the parsley and cilantro at the very end makes for a nice, bright color in the dish. We have been using a lot of whole wheat pasta for a while now and have never been bothered by it, so that part wasn't a problem. My only thing is that I never have success with spag (or other 'stringy' pasta) and chunkier sauces, so I just used penne instead, and everything mixed together nicely. Thanks for a different and tasty dish!
Put spaghetti in a large pot of boiling water and cook as long as the packet suggests. Mine takes 10 minutes.
Meanwhile, heat a non-stick pan and spray with low fat cooking spray.
Add the onions, garlic and mushrooms and sautee until they start to get soft which was about 5 minutes for me. If they start to stick just put in a splash of water. This is a good way to 'fry' things without fat.
Add the tomatoes, cinnamon, cumin, turmeric and salt and pepper and lightly simmer for about 8 minutes stirring frequently.
Stir in the chickpeas and heat just long enough to cook through, about 3 minutes.
Stir in the fresh herbs and just mix through until they start to wilt.
Add in cooked spaghetti and stir to make sure all of the pasta is coated in the sauce.
Serve.