Moroccan Soup to Fill the Tummy

It's incredible hard for me to get lamb here so I made this soup using chicken and was very pleased with it. It's quite hearty and aside from being delicious it will keep you going for a long time.
Directions
Put the lamb, spices, butter, celery, onion, and parsley/cilantro in a large soup pot and stir over a low heat for 5 minutes.
Add the tomato pieces, and continue cooking for 10-15 minutes.
Salt lightly.
Add the juice from the tomatoes, 7 cups of water, and the lentils.
Bring to a boil, then reduce heat, partially cover, and simmer for 2 hours.
When ready to serve, add the chickpeas and noodles and cook for 5 minutes.
Then, with the soup at a steady simmer, stir the lemony eggs into the stock with a long wooden spoon.
Continue stirring slowly, to create long egg strands and to thicken the soup.
Season to taste. ladle into bowls and dust with cinnamon.
Then there's always those little bowls of extra lemon juice for you inveterate sour pusses.
Reviews
Most Helpful
Such a deliciously fragrant soup and so filling too! Loved the ingredients and the spices; especially the cinnamon. I used beef and omitted the eggs, but otherwise made per the recipe. Made for the NA/ME tag, October, 2013.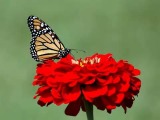 I also used chicken and omitted the eggs and soup noodles, otherwise made as stated and reduced recipe by 1/2 without trouble. Just love the flavours in this soup; healthy, flavourful , filling and warming. Made for PRMR

Made for Photo Tag. I had to adjust a couple of things but the outcome was still so delicious! I used chicken as you did but opted to not put chickpeas or the pasta.I just can't digest the chickpeas but I increased the lentils to 1 cup.I added some lemon juice which gives this a whole new flavour level. Highly recommended for being so flavourful and hearty.