Moroccan Red Snapper With Cumin Seeds
Bayhill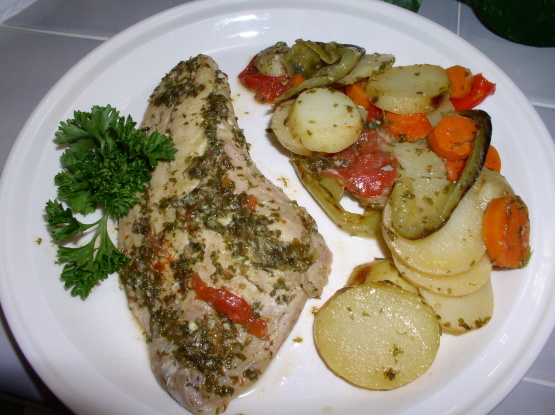 A lovely roasted fish from Morocco, originally appeared in Saveur in 1999. Cook time includes thirty minutes marinating time.

This was incredible! Next time we make it, we're going to triple or quadruple the vegetables so we can eat the leftovers as a side dish later in the week. This literally was one of my favorite recipes so far on this website!!! Thank you so much for posting it!
Grind together cumin seeds, garlic cloves, chopped parsley and salt with a mortar and pestle.
Transfer to a small bowl and mix in the lemon juice.
Place red snappers in a large, shallow baking pan and rub spice mixture all over fish.
Cover with plastic wrap and marinate in refrigerator for at least 30 minutes. Preheat oven to 500°.
Remove fish from refrigerator and scatter carrots, potatoes, tomatoes, green bell pepper, sliced lemon, green chiles (such as anaheims) over and around fish.
Pour water and extra-virgin olive oil over fish and vegetables.
Bake, basting often, until fish is cooked through, about 30 minutes.