3 Reviews
Very true, this recipe is more simple than it at first appears, in fact, its very simple, and well-explained, everything gets prepare in its time, and then comes together. I did my veg prep work first, made the couscous and left it to sit, made the sauce and left it to keep warm, prepared the veg and mixed them with the couscous, made the prawns.. and served. We Loved this, the sauce is wonderful, tangy without being sharp, a great accompaniment to the prawns (although they are so delicious, they could stand alone) and especially the veg/couscous, I could also eat that by itself! All in all, an impressive and delicious meal, thanks for a real treat, FC! Oh, no red currants, I don't even know if I can get them here. Sorry about that, I'm sure they would just be the perfect finishing touch!

Yum! the flavours were fantastic - tangy is the right way to describe it! Left a nice after taste. Thanks for sharing!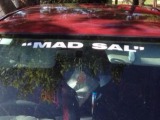 When I saw Flying Chef's picture of this recipe this week, I knew instantly that I had to try it. I prepared it last night, and my DH and I thought it was awesome. The sauce was excellent. All of the spices blended together to create a delightful culinary experience. The vegetables were not only delicious but very colorful and pleasing to the eye. The spices on the prawns were absolutely perfect. I did not have and could not find the fish granules so I substituted an 8 ounce carton of Kitchen Basics Clam Stock. I also did not have a yellow capsicum, so I used a very large red one which I had on hand. Since I wanted to keep the yellow color in the vegetables, I added a small yellow squash. I cooked the vegetables in avocado oil as I think this oil adds a very nice flavor. And I used Israeli Couscous cooked with canned chicken broth instead of the regular couscous. We absolutely loved the dish and plan to have it again tonight. Thanks, Flying Chef, for such a wonderful creation.

Moroccan Prawns With Couscous