Moroccan Orange-Walnut Salad (Zwt II)
WiGal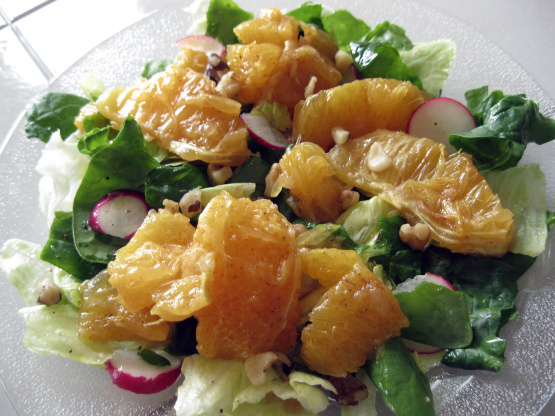 Another recipe I stumbled across & fell in love with on a search for something else. My recipe source is "The New Enchanted Broccoli Forest" by Mollie Katzen. Recipes w/10 min prep times always get my attention (esp ones w/flavor combos like this one!) & the serving method sounded like so much fun to do w/your family or at a dinner party w/friends. :-)

The presentation is what makes this salad shine! I loved how the toppings come together to provide such yummy flavor - the honey-cinnamon oranges are awesome. I thew in a little red pepper since I had some to use up. Great salad! Made for ZWT6.
Peel & section oranges using a sharp paring knife or serrated knife. (To do this, 1st cut off the polar ends of the peel & then slice the peel off the sides. W/a gentle sawing motion, cut in 1 side of the membrane & out the other, releasing ea orange section in a bowl. Squeeze all excess juice from the remaining membrane into the bowl as well & pick out seeds, if necessary.) Discard membrane.
Drizzle honey & sprinkle cinnamon into the orange slices. Stir gently to mix, cover & set aside till serving time.
Just b4 serving, toss greens in a lrg bowl w/onion, radishes & olive oil. Season to taste w/salt & freshly ground pepper.
TO SERVE: Bring orange sections, tossed greens & walnuts to the table in separate containers. Let ea person assemble his or her own salad by piling some greens on a plate, spooning over some oranges-au-jus & sprinkling a few walnuts on top.