Moroccan Mushroom Couscous
Rita1652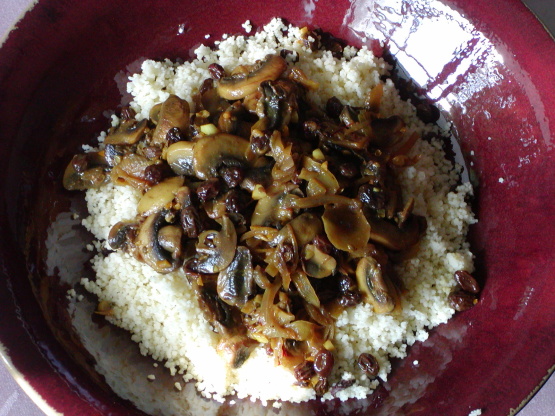 Great as a side or a meal in itself.

This dish is a nice change from plain old couscous! At first, I plated it as you suggested, Rita, but my platter was too small. So I decided to toss it all together in a bowl to combine the sauce and mushrooms throughout all the couscous. I did find that I liked the flavor of this dish better after it sat for a bit, and the flavors combined.
Heat 2 tablespoon oil add mushrooms seasoned with salt and pepper saute till tender.
Remove from pan and add 2 tablespoons oil, onions, garlic and spices cook for an other 5 minutes.
Add orange juice and zest simmering till reduced to 1 cup.
In a medium bowl Add 1 cup hot water to couscous and raisins season with salt and pepper remove let stand for 10 minutes.
For presentation plate the couscous on a large platter top with mushrooms and pour sauce on top. Just before serving toss together.