Moroccan Meatballs in Tomato Sauce
Parsley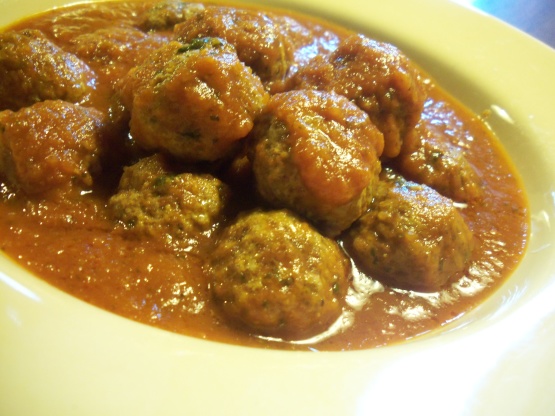 Serve with crusty bread, couscous, or rice to soak up leftover sauce. Moroccan paprika is slightly spicy, if yours isn't hot add a little cayenne.

Top Review by Z-chef
Really good. It was strange in that the more I ate, the better it got. At first, I thought it didn't have a lot of flavor, but it's very subtle and has a lingering flavor on the palate. It seems more Greek to me than Moroccan. It reminds me very much of a dish we had in Greece. I served it over Orzo, sprinkled with Feta Cheese, and a Greek Sala. Very nice meal which I wouldn't hesitate to feed to company!! Thanks for posting.
Make Meatballs: Place lamb in a large bowl. Measure in 1 1/2 tsp paprika, 1 tsp cumin, half the chopped parsley, and 1 tsp salt. Mix to incorporate seasonings through meat. Roll meat into 1 inch balls and set aside.
Make the Sauce: Turn on food processor and drop garlic through feed tube. Let machine run until garlic is chopped, then stop. Remove lid and scrape down sides of the bowl. Add teh drained toamtoes, olive oil, tomato paste, and onion. Add remaining 1 1/2 tsp paprika, 1 tsp cumin, 1/2 tsp salt, and remaining parsley. Process until nearly smooth. Scrape into a pan or deep skillet that is 10 inches across. Set over medium heat and bring to a boil. Cook 2-4 minutes and then remove from heat.
Nestle meatballs into sauce in a single layer. Swirl pan gently to ensure that meatballs are covered with sauce. Set over medium heat with lid slightly ajar and cook 10-12 minutes, until meatballs are cooked through. Taste and add more salt if necessary. If sauce is very thick, add a bit of water. Serve.