Moroccan Lemon Chicken With Olives
Khaduja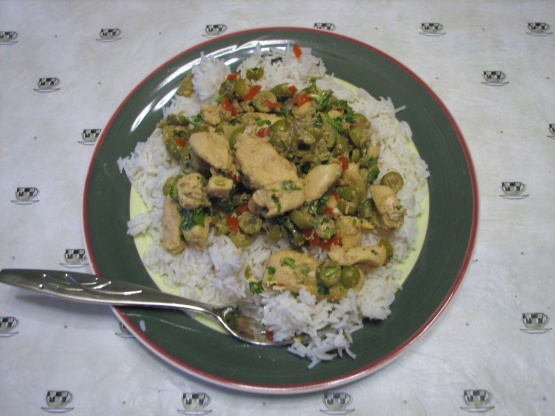 This dish includes chicken, lemon,cilantro and couscous. Posted for Zaar World Tour III.

This was a lovely dish, very easy to make and the flavour was exquisite.... i made it exactly as directed but i served it with rice instead of the couscous..... it had a lovely lemony flavour that wasnt too overpowering, the spices added a bit of kick and every now and then when you bite into an olive it just adds a nice salty surprise that truely compliments this dish. Thanyou so much for posting. Will be making this again for certain :)
In a food processor, finely chop onion and garlic. Dredge chicken in flour.
In a large skillet, heat oil over medium heat. Saute chicken and onion mixture until mixture has softened, about 10 minutes.
Stir in one cup water, saffron, ginger, cumin, paprika, salt and lemon peel.
Bring to a boil, reduce heat and simmer, covered, 35 minutes. Remove chicken from sauce and allow to cool a few minutes.
Debone chicken and cut meat into small pieces. Put meat back into sauce with the lemon juice, olives, cilantro and pepper. Simmer gently 5 minutes.
While the chicken is cooking, bring 1 1/2 cups of water to a boil in a medium saucepan. Add the couscous and bring back to a boil.
Remove from heat and allow to sit for 5 minutes.
Spoon chicken mixture over couscous and serve.