ImPat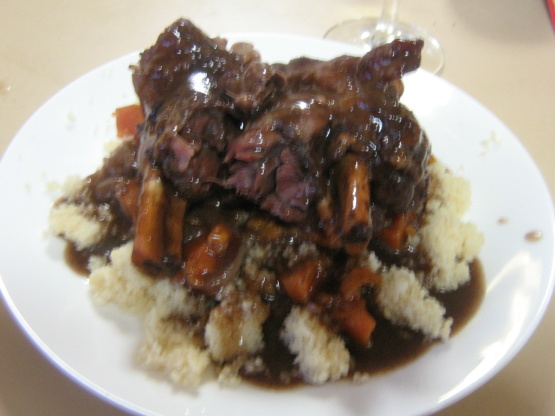 This is a great dish, tastes wonderful and the thing I love about cooking shanks is that although the cooking time is long once you have it all in the pot that is it, just come and stir it a couple of times. I actually went and enjoyed a drink with my hubby that evening at our local restaurant and I didn't have to worry about the food. When we got home it was nice to know I did not have much to do add the kumara and make some couscous. I make lamb shanks all the time I really enjoy them, I would probably make them more if they were readily available. This is just another take on a more traditional lamb shank recipe. I use 4 nice size lamb shanks in this recipe or if you can only get french trimmed use 8, 2 per person as they are smaller.

Top Review by ImPat
I served this for 3, the lamb shanks weighing between 450g to 485g, and stayed with the other quantities stated. Followed recipe and put in a fan forced oven at 160C after 1 hour they were already pulling off the bone, so added the sweet potatoe and an hour later they were perfect. I scooped out the shanks with the sweet potatoe and the onion and just added the watered cornflour to what was left in the pot and bought to the boil on the stove top and it was super delicious spooned over the fall apart shanks the couscous, sweet potatoe and onion. Thank you The Flying Chef, made for Edition 7 - Make My Recipe - a game of tag.
Heat some olive oil in a pan, cook lamb until browned all over, drain.
In a large saucepan or casserole dish (depending on whether you want to cook on the stove or in the oven.)Add some more olive oil, cook onion and garlic until onion softens, add cinnamon, cumin and coriander, stir until fragrant.
Add wine, bring to the boil, reduce heat and simmer uncovered until liquid has reduced by about half (it doesn't have to be precise). Add chicken stock and honey, bring to the boil, and reduce heat again.
Return lamb to the pan and either cook covered in a moderate slow oven (170c) for about 1hr 30 minutes or on a low heat on the stove for the same time. Uncover dish and add the kumara, cook covered again for a further 50Min's to 1 hr until lamb is falling of the bone.
Remove lamb and kumara from dish cover with foil to keep warm. Strain liquid into another pan, mix a little water with the cornflour, bring the sauce to a boil over a high heat add cornflour and stir until mixture thickens.
To Serve: I served mine over spiced couscous topped with kumara and lamb and then poured the sauce over.